Contact Us
We are more than happy to answer your questions or to set up a free, no-obligation consultation with you. For additional information, please feel free to call us or e-mail us using the links below.
Address
2342 Technology Drive,
Suite 300,
O'Fallon, Missouri 63368

or

903 S. Lindbergh
Suite 200,
Frontenac, Missouri 63131
E-mail
Mark Riordan: riordanm@stifel.com
Jason Becker: beckerj@stifel.com
Important

Do not send a request for trades or other transactions. Trades cannot be accepted electronically. Other inquiries that are time sensitive in nature should not be sent electronically. Please call your financial advisor directly to process trades and request items that are needed within 48 hours.

E-mail Note:
Do not disclose account numbers, passwords, or other sensitive information in any electronic messages. Information in your communication may be reviewed, monitored, or utilized by other Stifel associates for internal purposes, including supervision of the financial advisor you are contacting. Unless required by a court of law or regulatory authority, this information will not be given to external parties.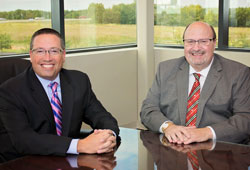 Telephone:
(636) 695-2650
(866) 950-5517 (toll-free)
Fax
(636) 695-3002
Email
Mark Riordan: riordanm@stifel.com
Jason Becker: beckerj@stifel.com
We offer a free review of your portfolio, which will enable us to assist you in determining the appropriate investments for you. Everyone has a different comfort level, and your portfolio needs to be customized to help pursue your individual goals.
Click here to e-mail us for additional information.
Asset Allocation does not ensure a profit or protect against loss. Stifel does not provide tax or legal advice.  You should consult with your tax or legal advisor regarding your particular situation.