13 Wealth Management Steps
We serve each client's individual needs by providing a high level of service through a 13-Step Wealth Management Assessment, which allows us to provide assistance with:
Investments – Provide an asset allocation and portfolio review

Insurance – Assess client's life, disability, and long-term care insurance needs and assist in evaluating existing insurance policies

Liabilities – Take into consideration client's liabilities and net worth

Qualified Retirement Plan/IRA – Review current contribution amounts, investment alternatives, and plan limits

Stock Options – Prepare an exercise strategy for qualified and non-qualified stock options

Business Succession Planning – Work with client's attorney to develop a succession plan that helps stated goals

Durable Power of Attorney – Discuss existing powers of attorney

Gifting to Children/Descendants – Assist in determining family gifting goals and work with client's attorney to identify opportunities for wealth transfer to heirs

Lifetime Charitable Gifting – Assist in determining charitable gifting goals and work with client's attorney to identify possible gifting strategies

Titling of Assets – Review current titling of assets with client and his/her attorney to determine if appropriate to help estate planning objectives

Executor/Trustee – Discuss existing executor/trustee designations in light of client's distribution goals

Distribution Plan at Death to Spouse/Descendants – Assist client in identifying family wealth transfer goals and objectives with client's attorney in implementing estate planning documents

Charitable Gifting at Death – Assist attorney in determining gifting strategies to help client's charitable goals at death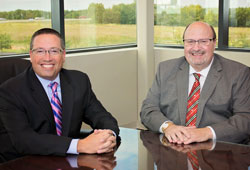 Telephone:
(636) 695-2650
(866) 950-5517 (toll-free)
Fax
(636) 695-3002
Email
Mark Riordan: riordanm@stifel.com
Jason Becker: beckerj@stifel.com
We offer a free review of your portfolio, which will enable us to assist you in determining the appropriate investments for you. Everyone has a different comfort level, and your portfolio needs to be customized to help pursue your individual goals.
Click here to e-mail us for additional information.
Asset Allocation does not ensure a profit or protect against loss. Stifel does not provide tax or legal advice.  You should consult with your tax or legal advisor regarding your particular situation.