Sign up for a Complimentary Seminar

It's All So Taxing. Individual Tax Reform Made "Simple"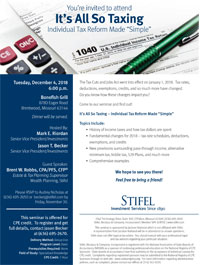 Tuesday, December 4, 2018, 6.00pm
Bonefish Grill
Eager Road
Brentwood, Missouri
Dinner will be served.
The Tax Cuts and Jobs Act went into effect on January 1, 2018. Tax rates, deductions, exemptions, credits, and so much more have changed. Do you know how these changes impact you?
Come to our seminar and find out!
Topics Include:
History of income taxes and how tax dollars are spent
Fundamental changes for 2018– tax rate schedules, deductions, exemptions, and credits
New provisions surrounding pass-through income, alternative
minimum tax, kiddie tax, 529 Plans, and much more
Comprehensive examples
We hope to see you there!
Feel free to bring a friend!
To RSVP
Call Audrey Nicholas at (636) 695-265
or
email Jason Becker beckerj@stifel.com
by
Friday, November 30.
Hosted By:
Mark E. Riordan
Senior Vice President/Investments
Jason T. Becker
Senior Vice President/Investments
Guest Speaker:
Brent W. Robbs, CPA/PFS, CFP®
Estate & Tax Planning Supervisor
Wealth Planning, Stifel
This seminar is offered for CPE credit. To register and get full details, contact Jason Becker at (636) 695-2670.
Delivery Method: Group Live
Program Level: Basic
Prerequisites Required: None
Field of Study: Specialized Knowledge
CPE Credit: 1 Hour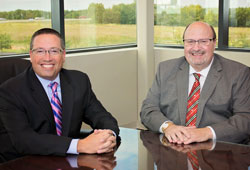 Telephone:
(636) 695-2650
(866) 950-5517 (toll-free)
Fax
(636) 695-3002
Email
Mark Riordan: riordanm@stifel.com
Jason Becker: beckerj@stifel.com
We offer a free review of your portfolio, which will enable us to assist you in determining the appropriate investments for you. Everyone has a different comfort level, and your portfolio needs to be customized to help pursue your individual goals.
Click here to e-mail us for additional information.