Sign up for a Complimentary Seminar

Retirement Planning Special Event
Thursday, August 15 at 6:30 p.m.
Bishop's Post
16125 Chesterfield Pkwy West
Chesterfield, MO 63017
Market volatility makes investing stressful, especially when your retirement is at stake. To keep your retirement on track, you don't need a sales pitch for another complex "silver bullet" product. You need help in developing your personalized investment plan designed around your family's needs.
If you are approaching retirement and have $250,000 or more in investment assets, join us at Bishop's Post in Chesterfield on Thursday, August 15 at 6:30 p.m. Dinner will be served.
This event will help you create a retirement plan aligned with your long-term goals, regardless of short-term market volatility. During the event we will discuss your first steps in starting your retirement plan and strategies for aligning your retirement investments with your long-term goals. Admission is free of charge.
We will be joined by Bob Whiting from Franklin Templeton Investments. The event is sponsored by Franklin Templeton Investments, which is not affiliated with Stifel.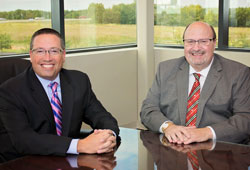 Telephone:
(636) 695-2650
(866) 950-5517 (toll-free)
Fax
(636) 695-3002
Email
Mark Riordan: riordanm@stifel.com
Jason Becker: beckerj@stifel.com
We offer a free review of your portfolio, which will enable us to assist you in determining the appropriate investments for you. Everyone has a different comfort level, and your portfolio needs to be customized to help pursue your individual goals.
Click here to e-mail us for additional information.