Sign up for a Complimentary Seminar

Preparing Your Retirement Portfolio for Market Volatility
Tuesday May 21 2019, 6.30pm
or
Wednesday May 22 2019, 6.30pm
Maggiano's Little Italy
2 The Boulevard
Richmond Heights, MO 63117
Dinner will be served.
For many individuals, their financial goals and objectives are as unique as they are. What may be the most important financial goals to some may not have as high of a priority for others. Although we realize there can be certain similarities among us, at Stifel we let you define your financial goals and objectives so we can work together toward pursuing those goals.
Come to our seminar and find out!
Topics Include:
What is a Stifel Wealth Strategist Report®, and how will it benefit me?
What financial goals and objectives are most important, and how do you prioritize them?
How does the financial planning process work, and what can we expect?
What other considerations should we be concerned about, and how can Stifel help?
Learn about the most important part of the Wealth Planning process
To RSVP
Call Audrey Nicholas at (636) 695-2650
or
email Jason Becker beckerj@stifel.com
by
Friday, May 17
Hosted By:
Mark E. Riordan
Senior Vice President/Investments
Jason T. Becker
Senior Vice President/Investments Bob Stockdale, CFP®
Senior Vice President/ Investments
Eric Robert, CFP®
Director/Investments
Guest Speaker:
Chad A. Morganlander
Senior Portfolio Manager and co-founder of Washington Crossing Advisors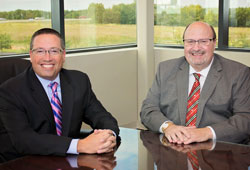 Telephone:
(636) 695-2650
(866) 950-5517 (toll-free)
Fax
(636) 695-3002
Email
Mark Riordan: riordanm@stifel.com
Jason Becker: beckerj@stifel.com
We offer a free review of your portfolio, which will enable us to assist you in determining the appropriate investments for you. Everyone has a different comfort level, and your portfolio needs to be customized to help pursue your individual goals.
Click here to e-mail us for additional information.